.. and get a set of free iPad Lettering brushes!
Read on to find out how :)
Have you hit it? That point, a few months after the novelty of lettering has worn off, when you feel like everything you create looks the same as everything else you've created? And even worse than that, it looks like everything everyone else is creating as well? You want to make stunning, complex pieces but there are so many things you have to learn first: layout, composition, more lettering, flourishing, embellishments. The list goes on and on.
This is exactly what happened to me! And then I found Amanda Arneill's amazing lettering course combo: 'Let's Keep Lettering' and The Perfect Piece'.
I initially hesitated to sign up because it is quite a bit more expensive than other online courses I had previously participated in. But I was intrigued and also just really wanted to take my lettering to the next level.
After signing up for the course I was invited to join a secret Facebook group to share my work and ask questions. And that's where everything changed. Not only did I find the most amazing, supportive and lovely group of people, Amanda was there too! Every day!! She commented on every lettering piece people uploaded, and the best part of the whole course were her live videos (this was in addition to all the videos in the library we got as part of the course). We could ask questions and she would answer them live and on camera - almost every day!! It felt like she was there with us, in the same 'room'. And all of a sudden the price for the course seemed too cheap!
The course went for 6 weeks, and we had to do homework every week that we uploaded and received feedback on. The feedback was always very constructive and played a massive part in my improved lettering skills. I learned so much in these 6 weeks - it was amazing!!
Below are my 'before' and 'after' pictures as a comparison. Look at all the amazing new lettering styles I have learned!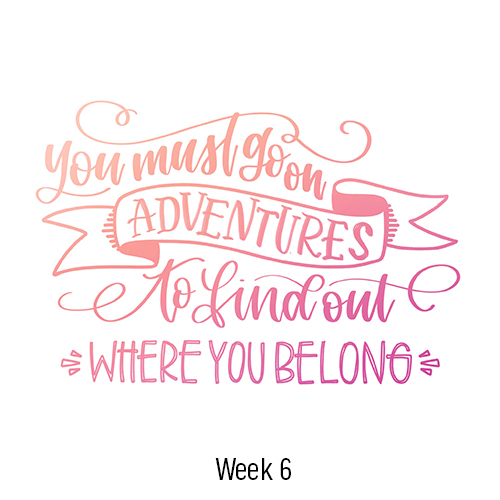 OK, now you have read so far and are probably asking yourself: But where can I get the free iPad Lettering brushes?? The answer is right here! Well, almost. In the interest of full disclosure I would like to add that I am affiliated with Amanda and will receive a small commission if you sign up for her course from my website. So if you would like to participate in the course and don't want me to get a commission, please go to Amanda's site directly (I don't mind, seriously, I really just want you to do the course because I think it's so awesome!). But - and this is where the free brushes come in - if you don't mind - please use the button below to sign up for the course :) You will receive the brushes as soon as I get the confirmed participant list from Amanda.
When I participated in the course back in August, I decided to create a separate Procreate brush to go with each lettering style. And as a 'Thank You' for signing up through me, you will receive the whole 'Keep Lettering' set for free. Or, alternatively, if you already have the set, I will send you a voucher of equivalent value :)
If you have any questions about the course - feel free to send me a message and I'm more than happy to answer anything you'd like to find out :)